READY STEADY GO
April 17th - May 1st. 2004
Three Colts Gallery, Greenheath Business Centre, Bethnal Green, E2
Sarah Baker, Juan Bolivar, Nick Dawes, Mathew Gooding, Julie Henry & Giles Perry, Sam Herbert, Justin Hibbs, Andy Hsu, Max Hymes Reece Jones, Sheena Macrae, Karl Marrow, Rachel Tweddell, Leon Woolls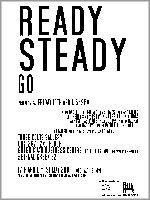 1963, August 9th - The first broadcast of 'Ready Steady Go!' on the BBC from Television House, Kingsway, London in a half hour slot from 7pm. The studio set allowed the invited public onto the floor 'for dancing and mingling with the appearing stars'.
The original theme tune, 'Wipeout' by the Surfaris was soon replaced by Manfred Mann's distinctive tune '5-4-3-2-1'.
1963, August 28th - Martin Luther King Jnr. delivers his 'I Have A Dream' speech on the steps of the Lincoln Memorial, Washington "...With this faith we will be able to transform the jangling discords of our nation into a beautiful symphony of brotherhood. With this faith we will be able to work together, to pray together, to struggle together, to go to jail together, to stand up for freedom together, knowing that we will be free one day."
Press Release from 'Ready Steady Go'

The Greenheath Business Centre in Bethnal Green is owned by Workspace a local commercial property company specialising in letting offices, studios and industrial units across London. This building once used to be a surgical instruments' factory and retains a faint chemical scent. From the outside it looks impenetrable but somewhere inside it there was The Three Colts Gallery, whom we heard were looking for proposals for exhibitions.
We met Anat Toffel and Pat Harris from The Three Colts Lane Gallery at the 'Carpenters' Arms Pub' near the gallery. In the 1970's this was a fashionable haunt but on that day it looked like an installation by the artist Mike Nelson.
We showed Anat and Pat our folio with photographs from previous shows and they agreed to let us use the space. The only condition was that due to their programme of exhibitions already being scheduled the only certain slot was in one month. To be precise twenty six days and the words 'ready, steady, go' came to mind.