YABADABADOO
Private View Friday 14th October 2005
October 15th - November 6th. 2005
Cell Project Space, 258 Cambridge Heath Road London E2 9DA
Juan Bolivar, Shezad Dawood & Hilary Koob - Sassen, Nick Dawes, Nadine Feinson, Matt Franks, Mathew Gooding, Justin Hibbs, Andy Hsu, Hiroe Komai, Georgina McNamara, Claudia Marchetti, Andrea Medjesi - Jones, Christopher Paquet, Peter Liversidge, Pamela Richardson & Kevin Smith, Piers Secunda, Christian Ward, Laura White, Leon Woolls, Neil Zakiewickz.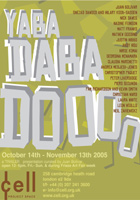 Suddenly we were 'ten'. Somehow nine shows had gone by and it seemed like yesterday since the first TRAILER in Calvert Avenue.
Although we had never really planned when these shows would take place, we felt it was necessary to plan ahead for this tenth show. We didn't want some warehouse being knocked down last minute and decided to approach Cell Project Space to see if they would consider hosting this next project.
Richard and Millie from Cell had been to a few previous shows and were always very encouraging. We felt we had an affinity with their 'spirit' and 'philosophy' and they seemed the obvious choice for this next adventure.
We invited them to dinner and completely avoided the subject. It was nearly midnight and we were all quite drunk. The perfect time to ask and amazingly they agreed.
We thought perhaps they had not heard correctly but we confirmed the next day and yes we had show in October, in time for the 'Frieze Fair' madness.
'Yabadabadoo' worked on several levels. It was like a summary of ideas that had circulated with other shows. The artist as shaman in a modern world dealing with the notion of 'high-tech' and 'low-tech'. Like in the Hanna Barbera cartoon classic 'The Flinstones', which presents a believable yet unfeasibly sophisticated 'hand-made' world.
But it was also a celebration. Like Fred Flinstone's yell at the end of a day's work, "yabababadoo", marked the end of an era an a series of shows. We had made it this far with a little help from our friends. Blood, sweat and tears had gone by and all that remained was the love we all shared.